Kendall Jackson Grand Reserve Merlot 2007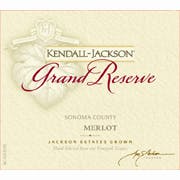 Grown on Clone 595, making this Malbec was pure joy. The vantage point at the top of Atlas Peak reinforces my theory that if a grape has a beautiful view, it will most assuredly become a good wine. Our Grand Reserve Malbec is living proof. Flowery on the nose, the color hue is a deep, dark violet that, after finishing your first glass, you'll note that it almost becomes blue. Tannins are deliciously soft with a perfect mix of blueberry and peppercorn on the palate. Medium to long finish.
Wine EnthusiastVery rich, ripe and dry, a Merlot with a drop of Cabernet that needs a year or two to resolve. It's fat and fleshy in cherries, violets, red currants and cola, with a dusting of cocoa, pepper and cinnamon. The tannins are ample, but very finely ground. Hold until 2011.