Simi Sonoma County Chardonnay 2009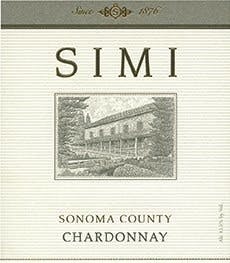 The remarkable color of this wine cannot be ignored. It is brilliantly clear straw with shades of gold throughout. The nose is similarly expressive, with bright nectarine, peach, apple, orange blossoms, and delicate spices along with hints of smoky toasted oak. It all comes together on the palate with well-defined, supremely balanced and forward flavors of tangerine, peach, and green apple that are lifted by a warm, toasty oak character best described as sweet vanilla mingled with hazelnut, nutmeg, and smoky bacon. This Chardonnay finishes with a delicate and light floral touch. Appearance: Brilliantly clear, light yellow straw. Aroma: Fresh green apple, nectarine, Meyer lemon and orange zest are laced with notes of vanilla, honey and toasted brioche with a lifted mineral edge. Flavor: Golden delicious apple and tangerine are lightly warmed with subtle notes of cream, butter and smoke finishing with a note of lime zest.
Wine EnthusiastDry, creamy and crisp, with pleasant citrus, tropical fruit and oak flavors, this Chardonnay shows a lot of upscale character at a price under $20.