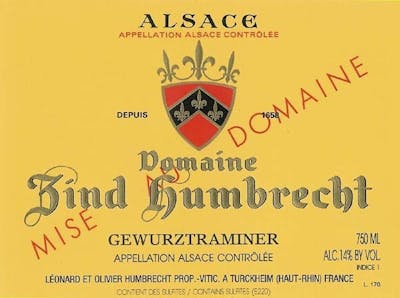 SKU: 7615032297550
Domaine Zind Humbrecht Lot 170 Gewürztraminer 2009
---
---
The nose is very pungent, showing lots of exotic aromas, roses and spices, clearly also influenced by the limestone vineyards from Wintzenheim. The palate shows surprising structure and a dry finish. The grapes were very healthy, so the fermentation was steady and almost complete, which suits this style of Gewurztraminer. It is already quite open but will benefit from a little time in the bottle. This style of Gewurztraminer will be perfect with grilled fish or white meat, go very well with smoked food, Asian recipes and anything that could be complicated with wines.
Crackling acidity sets up this dry, aromatic version, with layered flavors of lychee, fleur de sel, orange peel and smoke, joined by a hint of cantaloupe. Finely meshed, building in intensity toward the minerally finish, with lots of lingering white pepper notes. The L170 in small print in the lower left corner of the label distinguishes this from the otherwise identical label of the L17M. Drink now through 2024.
Certainly rich, but this wine is also about purity of spicy fruit, bringing out the fresher side of the variety as well as the intensity.